You know him as George Bailey, a small-town banker who is sent an angel showing him what life would have been like if he had never existed.
"it's a Wonderful Life," as you're probably quite aware, is an uplifting story of family, love, hope and redemption.
As captured by writer Ned Forney of Saluting America's Veterans, here's what you may not know about Jimmy Stewart, the legendary actor who brought this beautiful Christmas tradition to life, with viewers spanning multiple generations:
After winning a 1941 Academy Award for best actor in "The Philadelphia Story," Jimmy Stewart left the Hollywood elite and joined the US Army, one of the first movie stars to enlist in World War II. He already had his private pilot license and aspired to be a US Army Air Force Aviator.
Not only did he do just that, but he also attained the rank of colonel and received several awards for his service. Because of his popularity as an actor, he attended rallies and trained young pilots.




Stewart, however, wasn't satisfied. He wanted to fly combat missions. By 1944, frustrated and feeling the war was passing him by, he asked his commanding officer to transfer him to a unit deploying to Europe. His request was reluctantly granted.
Stewart, now a Captain, was sent to England, where he spent the next 18 months flying B-24 Liberator bombers over Germany. Top brass tried to keep the popular movie star from flying over enemy territory. But Stewart would hear nothing of it.
Determined to lead by example, he assigned himself to every combat mission he could. By the end of the war he was one of the most respected and decorated pilots in his unit. But his wartime service came at a high personal price.
In the final months of WWII he was grounded for being "flak happy," today called Post Traumatic Stress (PTSD).
When he returned to the US in August 1945, Stewart was a changed man. He had lost so much weight that he looked sickly. He rarely slept, and when he did he had nightmares of planes exploding and men falling through the air screaming (in one mission alone his unit had lost 13 planes and 130 men, most of whom he knew personally).




He was depressed, couldn't focus, and refused to talk to anyone about his war experiences. His acting career was all but over.
As one of Stewart's biographers put it, "Every decision he made [during the war] was going to preserve life or cost lives. He took back to Hollywood all the stress that he had built up."
In 1946 he got his break. He took the role of George Bailey, the suicidal father in "It's a Wonderful Life."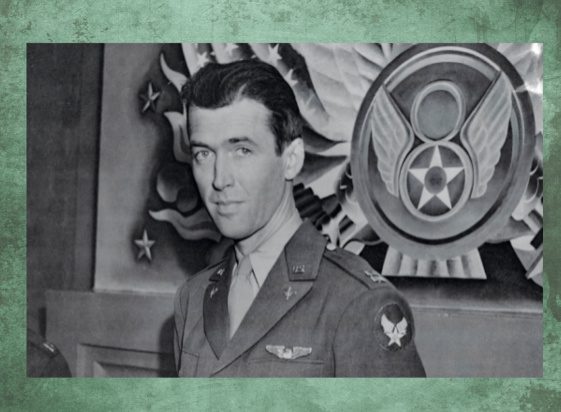 Actors and crew of the set realized that in many of the disturbing scenes of George Bailey unraveling in front of his family, Stewart wasn't acting. His PTSD was being captured on film for millions to see.
But despite Stewart's inner turmoil, making the movie was therapeutic for the combat veteran. He would go on to become one of the most accomplished and loved actors in American history.
When asked in 1941 why he wanted to leave his acting career to fly combat missions over Nazi Germany, he said, "This country's conscience is bigger than all the studios in Hollywood put together, and the time will come when we'll have to fight."




Stewart was later promoted to brigadier general in the Air Force Reserve in 1959, and retired in 1968. At that time he was awarded the Air Force Distinguished Service Medal and later promoted to the rank of major general in 1985 by President Ronald Reagan.
What a beautiful tribute to remember the sacrifices of those who gave up so much to serve their country during wartime.

Related Articles:
Time Does Not Heal All Wounds
Releasing the Grip of Negative Emotion